Want to quick share your playlists on website and socials ? The Free music Smartlink feature is made for you !
With the Smartlink, your fans can open your playlist in their favorite music app directly from one unique link. Your link shows all streaming options directly in one page. Whatever the user is using as music provider or music shop, you can redirect him directly to the right page.
It's easy, using our tool, you can route fans to your playlists across different music services. Specifically made for Curators, Artists, Majors, Labels, Web blogger !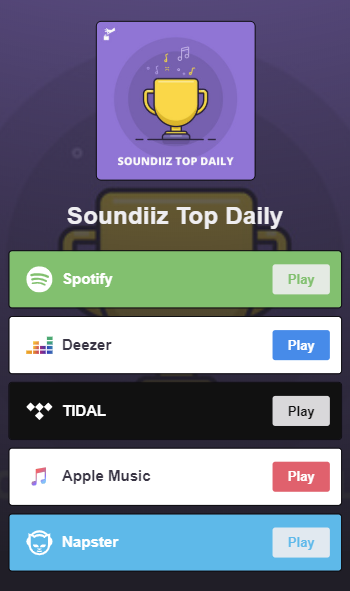 How does it work ?
Once your Smartlink configured on Soundiiz (setting the source element, filling right URLs per service etc...), a Share Link will be generated for you and will look like: https://sdz.sh/gl3gMQ
This link can be shared on website and socials. The user will get a single page will links to different music platforms you have set. Selecting one link will directly redirect him to your content on the right service.
That's all ! Whatever music service your audience is using, you will be able to provide the right link with ONE link ;)
Can I Embed a Soundiiz Smartlink widget ?
Yes ! Simply take a look to the Embed Soundiiz widget documentation to display a widget on your website and blog.
Do I have to recreate / update my playlists everywhere ?
No, that's the best part with Soundiiz ! With the Synchronization feature you can easily create Sync rules to update (on weekly basis for example) your playlists on different music services. That means, you update your playlist in one place and then Soundiiz is taking care of updating that changes on other platforms. Proposing your content on a maximum music platforms has never been so easy !
Can I also share an Album/Release or a single Track, an Artist ?
Yes. When creating a new Smartlink, select the type of link you want to add between Playlist, Album, Artist and Track. You can of course share links of your Podcast / Show with Smartlink too !